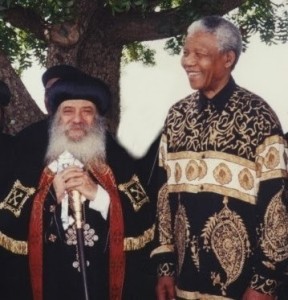 Since the man who helped end the apartheid in South Africa has passed earlier this month, a number of people have had their opinion and judgment on Mandela – first as a man who can be considered 'Christian' and second if he is saved. (And yes I went there in posting a photo of Mandela and the late Pope Shenouda III)
I don't know what it is but many of us Christians, when someone of high profile and one of good honour and reputation passes, such as Nelson Mandela, it seems that the automatic response to do is to judge his behaviour throughout his life and then conclude whether he is considered to be saved and even a Christian at all.
So I wrote this blog – not to conclude whether Mandela is saved or not, but how we as Christians should understand salvation and our place of judgement, and are still able to honour and learn from such great figures like Mandela who lived the gospel of love, peace and justice. (I believe you can learn from every human being – right and wrong, good and bad – Christians must learn from all of God's creation… even from the diligence and toil of an ant (as Pope Shenouda spoke of before in one of his sermons for example; and no I am not comparing Madiba to an ant – heaven forbid).
Thus, the core issue is – do we, as Christians (and non-Christians alike) have the right or authority to judge or assume whether a person enters the kingdom? (And when news hit the world that such figures like Mandela, Jackson (MJ), Houston pass – it is as if many people consider such high-profile people immortal, but anyhow a side note).
We have been given the revelation of truth – that is, the message of salvation in the divine scriptures. In God's manifestation, He tells us that salvation is purely grace, but also that man was created for good works ("For by grace you have been saved through faith, and that not of yourselves; it is the gift of God,  not of works, lest anyone should boast. For we are His workmanship, created in Christ Jesus for good works, which God prepared beforehand that we should walk in them. Eph 2:8-10) and that faith and works must go together, lest faith be dead ("What does it profit, my brethren, if someone says he has faith but does not have works? Can faith save him? If a brother or sister is naked and destitute of daily food, and one of you says to them, "Depart in peace, be warmed and filled," but you do not give them the things which are needed for the body, what does it profit? Thus also faith by itself, if it does not have works, is dead." James 2:14-17)
So, salvation is grace, but naturally, or innately we were made in goodness and as good (being made in His image and likeness) so good works was purposed for us as human beings. God being good – we share in His attributes being His children.
And as the famous Orthodox-salvation phrase is "I was saved (through the incarnation, death, and resurrection and ascension of Christ), I am being saved (being interconnected and growing in the image and likeness of the Divine Creator), and I will be saved (in the next life by grace and His mercy).
So, then, to go back to whether Mandela is saved or not?
A few different people have criticised him saying Mandela was a violent man, he wasn't Christian, (I'm sure many Orthodox have thought that he simply isn't Orthodox so he cannot be saved), and so on. (as you may conclude from reading this blog I do not make a conclusion purposely.)
I was extremely frustrated and perturbed when I heard the former statement… how quick are we to judge, and in this case, a man's past who moved from fighting for racial equality in his early years to an icon of pure forgiveness and magnanimous love after having spent almost 28 years of his life in a prison cell and having missed to see his children grow up to say the least…
For those people who are quick to judge such a person as Mandela, I would say, firstly, who are we to judge a person, and especially someone's old past, and second, unless we have reconciled a racial prejudiced country for dozens of years such as that of South Africa and simply destroyed racial discrimination and division, one may (I highlight 'may') have an opinion on his political and philanthropic decisions… but unless you are God himself, no one has a place to judge on his eternity, and where his heart was with God (for indeed the Scripture does not lie – man looks at the outward appearance but the Lord looks at the heart, – 1 Samuel 16:7)
One can say, well the Scriptures says, "Judge with righteous judgement" (John 7:24). We are called to have a judgment in accordance with the truth that has been revealed to us in Scriptures – that is for example, if someone steals, we are to judge that that act is a sin – since Scripture clearly says "you shall not steal", and likewise with any other sin… or if someone questions whether Christ is fully God – we are to judge in accordance with Scriptures that He is truly the Messiah and God-incarnate.  And so on.
But judging a person, Christ was clear when He himself did not judge the woman caught in adultery, ("He who is without sin throw the first stone" John 8:7 – yet Christ, being the only One without sin did not even stone her), or judge the sinful woman (Luke 7:48) and ate with tax-collectors, Pharisees, sinners.. and the list goes on. When we judge our brother, we place ourselves as God and forget our own sinfulness as human beings (and not looking at the "plank" in our eye needless to say). This does not mean when someone sins we do not acknowledge it as sin, it means, we don't condemn the person. Love the sinner, not the sin as is famously said. (Side note: a poll made in the US recently asked people what are the top three characteristics they may describe a Christian – 'hypocritical' and 'judgmental' were the top two).
As for the final judgment, (that is, referring to the next life), this is reserved for God Himself of course (and plenty of verses to show… "God shall judge the righteous and the wicked" Eccl 3:17, "For God will bring every work into judgment" Ecc 12:14, "in the day when God will judge the secrets of men by Jesus Christ" Rom 2:16, "but he who judges me is the Lord" 1 Corinthians 4:4, "I charge you therefore before God and the Lord Jesus Christ, who will judge the living and the dead at His appearing and His kingdom" 2 Tim 4:1 and many more…)
And so, I hesitated writing this blog since I did not want to make the issue bigger than it may be… but I felt the need to make the statement since it seems many have attempted to place judgment on the other's salvation – and in this case, that of Madiba. And as I said, we can learn so much from someone who was able to forgive his enemies and continue to fight for peace, after having lost many years of human interaction whilst in a prison cell. How many of us still hold grudges to an old friend, colleague, family member for having hurt us in one way or another – possibly years ago, and are imprisoned in our own conflicts of being unforgiving and angry? Is this not iconic – that such a one as Mandela was able to forgo that and yet still fight for peace – inwardly and outwardly for his country? (As Madiba famously said after being released from prison, "As I walked out the door toward the gate that would lead to my freedom, I knew if I didn't leave my bitterness and hatred behind, I'd still be in prison.")
I would like also to add His Holiness Pope Tawadros' statement on the passing of Madiba: (can be found here: https://www.copticworld.org/articles/3004/)
"Let us never forget the legacy of a man that dared to fight injustice through peace, understanding, mutual respect, and forgiveness. His example of perseverance and fortitude not only shaped a life, but an entire country, generation and even the world. Today, a great peacemaker has completed his mission. Mr Nelson 'Madiba' Mandela is not only the 'Father' of South Africa, but he is a father to all through his teachings and philosophy. We were promised in Matthew 5:9; 'Blessed are the peacemakers for they shall be called sons of God.' May Mr. Mandela rest in peace with the Prince of peace, our Lord, God, and Savior Jesus Christ. I pray for his family and the entire nation of South Africa."May God repose the soul of Mr. Mandela and bring comfort to his family."
I conclude with an excerpt from the funeral speech by President Kenneth Kaunda of Zambia about Madiba that shows a mere glimpse of someone each of us can learn from – for in those ways that he lived and fought for – it mirrors the truth of the Gospel:
Who is Nelson Mandela? How do I see him? This man is a blessed child of God Almighty. He followed the commandments that God Almighty the Creator has given to the entire human race: love God your Creator with all your heart, all your soul, all your mind, all your strength. As that one is created as you, He commanded love your neighbour as yourself, do unto others as you would have them do unto you. What have are our brothers have done for these commandments?… they came to South Africa, what did they do? They found the black people here and saying 'no you are not God's children, we are God's children. We must keep you there at a distance. When we go to pray, we must pray by ourselves. You pray by yourselves – at a distance. When it comes to hospitals, we can't be with you in the same hospital. You must stay there- there!! Schools, oh schools! Schools will be spoiled if mixed with black people..no no no! we put our children over here, your children over there! Segregation, segregation.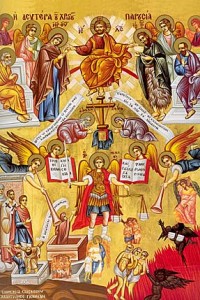 That is God's commandment- love your neighbour as you love yourself. That neighbour is regardless of colour. That neighbour is regardless of faith. That neighbour is regardless of anything else. He is your neighbour, made in God's image like you. Who are you to say that he is not made in God's image? Who are you to say that – condemning God's decision?! And you go and say 'We are praying to God', with that type of attitude, that type of mentality. This Christian man we commemorate today, said 'no no no, my poor friends, we can't go like this' and he looked at them. Can you see how wonderful he was? … Madiba, showed us the way, when you are white, black, yellow or brown you are all God's children: come together, work together, and God will show you the way. All of us must remember, that as we go on without Madiba, he is no more in terms of this life.. but Madiba was sent by God to fight against racism to the best of our ability let us remember this love he had us for all, without we cannot succeed. As we continue on this programme, remember, to love your neighbour as you love yourself. Do unto others as you would have them do unto you."