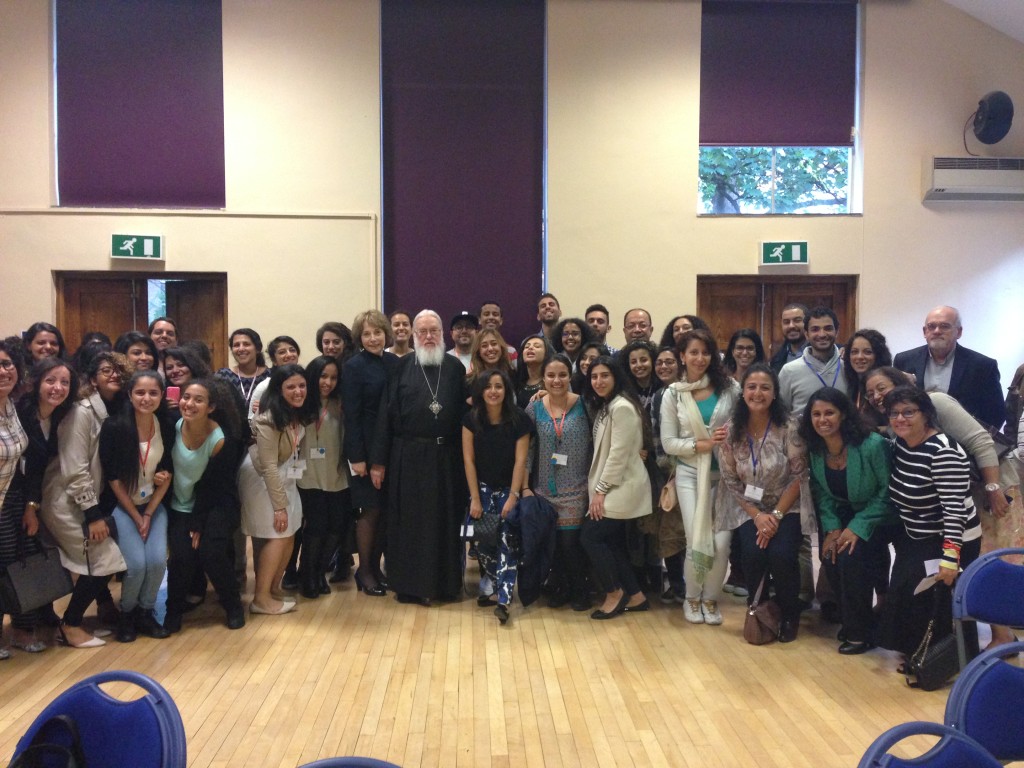 Under the auspices of His Holiness Patriarch Tawadross II
September 11-13, 2015: London, UK
Orthodox Women's Ministry – a new lay movement in the Orthodox Church blessed by His Holiness Patriarch Tawadros II, just launched its first international conference – focusing on Women's Role in the Church: Yesterday and Today for Tomorrow.
Although the theme was in fact on women's role in the Church (past, present and future), the underlying theme of all the talks encompassed all people in the Ecclesia at large – men, women, children, youth, and all members of the clergy, and thanks be to the Trinity, this aim in my mind was fulfilled throughout the entire conference.
If the aim of this conference was to solely focus on women, we as OWM, have missed the reality that all persons are inter-connected by their right of personhood (Gen 2:21-3), all persons affect each other (2 Cor 12:26-7), and all persons must work together for the salvation of the entire Body – since there "should be no schism in the body, but that the members should have the same care for one another." (2 Cor 12:25)
Thus, I am so grateful especially to the number of men – of all ages (high school to graduates to fathers and grandfathers and clergy)– who made the effort in attending the conference and supporting this ministry and growing in their knowledge and care for all members of the Church.
I am also grateful to all those who helped and laboured for this conference – all the attendees – which encompassed about 100 people over the course of 3 days – men, women, youth, parents, clergy…and those who attended from the Coptic, Greek, Romanian and Ethiopian Churches.
We had in attendance people from 8 different countries– from all over England, Scotland, France, Austria, America (California, DC, and NY), Canada (Toronto and Montreal), Egypt and yes – even Australia! (Many more personally wrote to me and wanted to attend from America, Australia, Canada, Italy, Sweden, Holland, Denmark, Germany – but were unable to because of distance/costs etc).. 
So God willing, we hope in the future to also have this conference theme held in America and Australia as well 🙂 (and more future theological conferences also to be held in London every two years).
So, this conference was the start of a new beginning – to reaffirm (not create) the reality of our personhood in the image of the Trinity (Gen 1:26) – showing that each member has been consecrated and has a unique personhood, which was given to him/her at their baptismal ordination through the work of the Trinity. We have all been made anew (2 Cor 5:17) and ordained as consecrated to the Lord when we have put on Christ. (Gal 3:26-8, Eph 4:24, 1 Peter 2:9-10)
We were exceedingly blessed to have 5 international speakers (both academic and theologians): men and women, lay and clergy – from both Eastern and Oriental Orthodox Churches. The Spirit brought this conference together and we are excited to see God's work in this new ministry for the labour of His Church!
The world renown speakers and topics were the following:
"Call to Holiness: the Role of the Laity in the Orthodox Church" by Dr. Kyriaki Fitzgerald, co-founder of Saint Catherine's Vision (an Orthodox ministry), from the Greek Orthodox Church.
"The Role of Men and Women Rooted in the Right Understanding of Roles within the Persons of the Trinity" by Emmanuel Gergis, PhD candidate and co-founder of St. Cyril Society Orthodox Society and College, from the Coptic Orthodox Church.
"You are a Royal Priesthood: the Lay Christian as a Consecrated Person" by His Eminence Metropolitan Kallistos Ware of Oxford, from the Eastern Orthodox Church.
"Paul and Womanhood: an Exegetical Approach" by Fr. Seraphim Baramousy, who is pursuing his Masters in Theology from St. Andrews Scotland and is from the Monastery of El-Baramous in Egypt.
"Nurturing Movements for Change from within the Orthodox Church: Challenges and Opportunities" by Dr. Mariz Tadros, research fellow in politics and human development at IDS in the UK, from the Coptic Orthodox Church.
"Women Deaconesses in the Early Church- Applicable Today?" by Dr. Kyriaki Fitzgerald.
*If you haven't heard of any of these speakers – then we need to get reading and Youtube-ing!**
All the lectures were recorded (video and audio) and will be available to access through registration shortly (I will post updates).
We will have a summary of each talk posted on our new website shortly: orthodoxwomensministry.com (temporarily under construction) – but sign up on the site for updates! (Also follow us @WomenOrthodox, facebook.com/womenorthodox)
If you have any suggestions, comments or ideas that you would like OWM to address on our website, please contact us at orthodoxwm@gmail.com or contact@orthodoxwomensministry.com.
God willing, OWM will also be working with a sister ministry- Saint Catherine's Vision – and we are so excited to see what God has in store for this collaboration! See more about SCV here and our event posted on their site.
Here are some pictures to give you a sneak peak of the conference:
[gallery_bank type="images" format="masonry" title="true" desc="false" responsive="true" display="all" sort_by="random" animation_effect="bounce" album_title="true" album_id="1″]