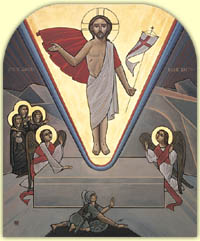 I am compelled to respond to the article written about Pope Francis' homily that was delivered Wednesday, May 22 at the Mass in Rome to bring to light some questions about the pope's view on redemption.
As much as I am in full support of ecumenism and preaching the truth of the Gospel to everyone – I partially agree with Pope Francis' homily (this all on the assumption the article attests accurately of his speech).
We, as Christians, believe all are saved by the blood of Christ – He has redeemed us from the curse of the law (Galatians 3:13) and He has become a "ransom for all" (1 Timothy 2:6).
Salvation has come to everyone through the Incarnate Christ – Jew or Greek, Catholic, or Atheist – we have all been redeemed.
Now, according to the article, Pope Francis calls everyone to "do good" – to "meet one another doing good" – Catholics and nonbelievers alike. Yes, every human being is made in the image of God (Genesis 1:26, 27) and every man was created for good and in goodness. So goodness was part of man's inherit nature. So it is natural, even more so – required for man to do good. It's part of his birth right.
So then, if man does good, is he saved? I admire and honour Pope Francis' enthusiasm and ecumenical spirit to bring all mankind to goodness, but in addition to doing good it seems man is saved and (as the article states) he affirmed to his audience, "Do good: we will meet one another there."
This last statement poses several issues. It can be understood that by man's good works he is saved – and thus eradicating the work of grace of the Holy Trinity. In the Christian understanding of salvation – it is by "grace we have been saved" (Ephesians 2:5). But, does not one have to believe to receive salvation?
Yes. Full stop. It cannot be clearer that message of truth in the divine Scriptures. Countless of times Christ says that those who believe in Him will have eternal life and those who do not will not receive life. "He who believes in Him is not condemned but he who does not believe is condemned already" (John 3:18),  "He who believes in the Son has everlasting life and he who does not believe the Son shall not see life" (John 3:36), and "if you do not believe that I am He you will die in your sins"(John 8:24), and "For with the heart one believes unto righteousness, and with the mouth confession is made unto salvation" (Romans 10:10) and the list goes on.
Condemnation, dying in sins, not seeing life – these are quite radical and strong statements. But the message of the Gospel isn't always easy to swallow, let alone live by.
So, how can one reconcile the pope's view on the totality of humanity's redemption and doing good without having to be a believer? Can one do good whilst not being a believer? Most definitely. As said earlier, goodness was part of man's inherit nature – so all of humanity is called to do good, but more than that – do good and believe. The message of the Gospel cannot be tampered or watered down for the sake of inclusion. This does not mean we exclude nonbelievers or anyone purposely – but we must always continue to hold our faith steadfast whilst preaching the truth. Goodness is not enough for salvation. This is what has been handed down to us in the form of Scripture.
And finally, if a believer does good, is he saved? The Christian Orthodox understanding of salvation is –
I was saved, I am being saved, and I will be saved
– all through the grace of God. Any goodness comes from the Source of Goodness – God. Any good we do – we do it from Him – "for it is God who works in you both to will and to do for His good pleasure" (Phil 2:13).
We are saved by grace, through our faith and our works. We have faith and works – through the grace of God. Our works reflect and project our faith, and our faith reflect this grace.